SANH Governance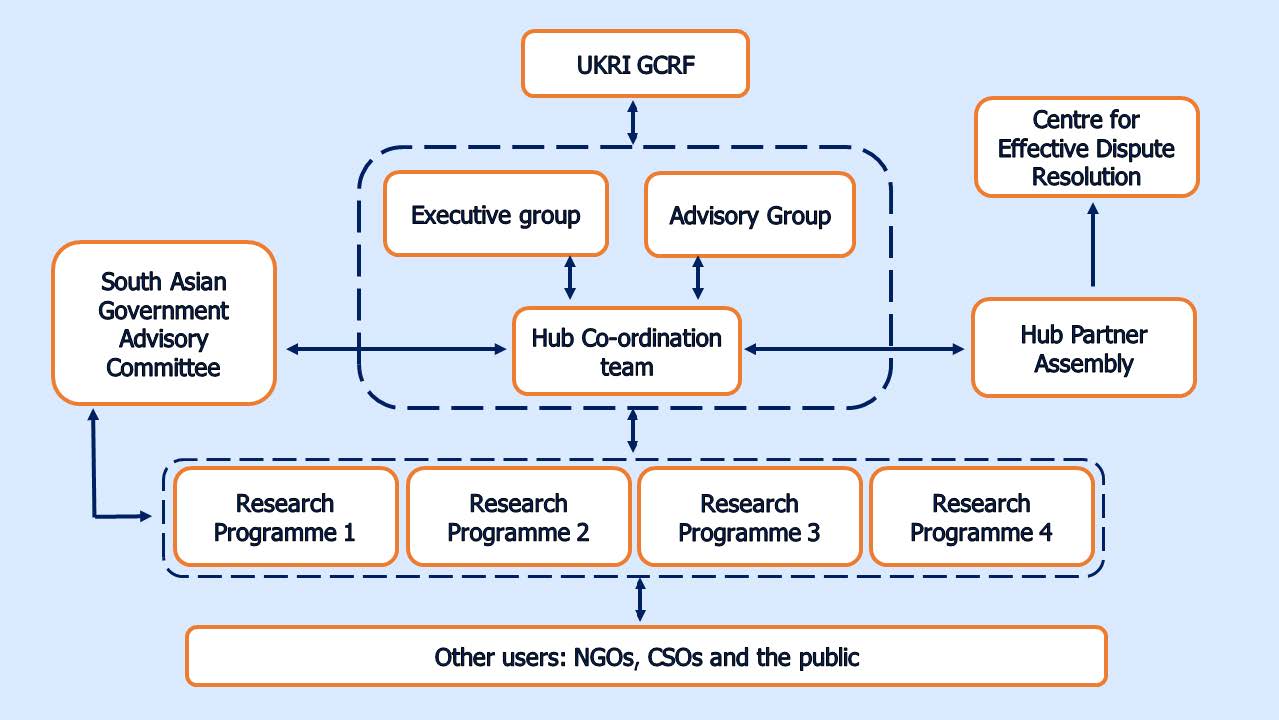 Governance structure of SANH
SANH Executive Group
Primary decision-marker in regards to the entire project
The Executive Group is the primary management and decision-making body for the Project with responsibility for policies, budget, delivery and ownership ofrisks. All significant strategic and operational matters relating to the Project shall be decided upon by the Executive Group. The Executive Group may put in place any structure to manage the Project that it decides upon. As far as possible, decisions of the Executive Group shall be taken by consensus.  Where consensus cannot be reached, decisions shall be reached by vote. The executive group meets every three months either in person or by tele-meeting.
Executive Group Members:
Mark Sutton (Project director)
Bill Bealey (Project Manager)
Roger Jeffery
Vera Eory
Nandula Raghuram
Bob Rees
David Reay
Ramesh Ramachandran
Subodh Sharma
Tapan Kumar Adhya
SANH Advisory Group
Independent group which aims to assist in the direction of the hub
The SANH Advisory Group (AG) consists of scientific, technical and project management experts who provide strategic support and advice to the South Asian Nitrogen Hub (SANH). The Advisory Group consider the progress of the project, provide advice and support on potential improvements and can assist with decision-making. The Advisory Group engages with the project through face-to-face attendance of the SANH Plenary Meetings and six-monthly, virtual Advisory Group Meetings (or more frequently if deemed necessary). The group is also responsible for the delivery of a short Advisory Group report annually in March, as requested by our funders, UKRI (note that only non-observers are able to support this function). The group aims to include a broad range of scientific experts with both regional and gender balance. All decisions made by the group are taken by consensus. 
Advisory Group Members:
Jagdish Ladha- Chair of the Advisory Group, Agriculture Scientific Expert 
Jatish Biswas- Scientific Expert, Crops and nitrogen cycling 
Aimable Uwizeye- Livestock and Agriculture Scientific Expert, FAO representative 
Fahim Khokkar- Air Quality Scientific Expert 
Andy Large- PI of the UKRI GCRF Living Deltas Hub 
Isabelle Van der Beck- Nitrogen Project Management Expert, UNEP representative 
Tune Usha- National Centre for Coastal Research 
Jill Raval- United Nations Environment Programme 
Peter Whalley- GEF Project Evaluator
Saumya Singh -Department of Civil & Environmental Engineering, University of California, Berkeley
Mark Sutton*- PI and Director
Bill Bealey*- Project Co-ordinator 
Samantha James*- Project Co-ordination Team 
Marc Pelling*- GCRF Challenge Lead 
Lucy Hopewell*- UKRI NERC Project Officer 
Debbie Harding*- UKRI NERC Project Officer 
Abas Basir*- Previous Director General of the South Asian Co-operative Environment Programme (SACEP) and the SANH Co-Director for Policy 
Tapan Adhya*- SANH Co-Director for Science 
Shivani Tripathi*- SANH Co-ordination Team 
Hub Partner Assembly
Representing the partner organisations of the hub
Due to the large number of partners in the Hub it is not possible for a representative coverage of the partners to be included within the Executive Group, therefore a Hub Partner Assembly is also included within the Hub, to allow representation from every partner in the Hub to the extent that needs may arise. The Hub Partner Assembly provides an opportunity for any partner of the hub to raise issues with the full hub membership.
The Hub Partner Assembly consists of a representative of the Collaborating Organisation and each Partner Organisation. In case of any voting situations, the Collaborating Organisation will request that each Partner nominates a voting member of the Hub Partner Assembly. The Hub Partner Assembly will be chaired by the Hub Director and may make recommendations for decision by the Executive Group on any topic
The Hub Partner Assembly gathers at every Annual Project Meeting to address implementation, policy, risks and evolving priorities. It also provides each partner with the opportunity to raise issues, if their organisation is not represented at Work Package Lead, Research Programme lead or Executive Group level. Any member of a Project Partner is welcome to attend Hub Partner Assembly meetings.