Bangladesh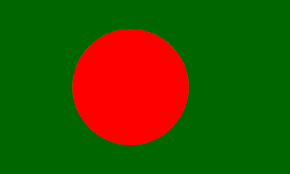 Bangladesh, officially the People's Republic of Bangladesh, is a country in South Asia. It is the eighth-most populous country in the world, with a population exceeding 164 million people. Dhaka, the capital and largest city, is the nation's economic, political and cultural hub.
The People's Republic of Bangladesh is situated in South Asia on the fertile Bengal delta, and the name "Bangladesh" means "country of Bengal" in the Bengali language.
During the wet season, between May and September, melting snow runs down from the Himalayas and covers the heavily populated flood plain. 
Dhaka, the capital city, is a sprawling city of 12 million people, located in the centre of the country on the Ghanges river delta. The city transport benefits from hundreds of thousands of rickshaws which provide employment and a pollution free way to travel.
Bangladesh is a major exporter of jute and textiles.
The Royal Bengal Tiger is the national animal of Bangladesh.
The doyel is the national bird and features on banknotes and the Doyel Chatwar statue in Dhaka.
Partner Institutions:
Bangabandhu Sheikh Mujibur Rahman Agricultural University
Bangladesh Rice Research Institute