India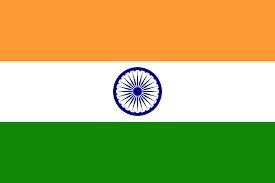 India, officially the Republic of India, is a country in South Asia. It is the second-most populous country, the seventh-largest country by land area, and the most populous democracy in the world, with a population of over 1.3 billion.
India is a peninsular country, bordered mostly by water: the Arabian Sea towards its southwest, the Bay of Bengal towards its southeast and the Indian Ocean towards its south. The countries bordering India are Bhutan, China and Nepal in the North,  Burma and Bangladesh in the East, and Pakistan in the West.
India has a varied landscape, with mountains, deserts and some of the world's largest rivers. The Ganges river tributaries drain a 1,000,000 square kilometre fertile basin that supports one of the world's highest densities of people. The river is named after a Hindu goddess called Ganga.
The highest point in India is Kanchenjunga, situated 8,598 m above sea level. It is the third highest mountain in the world (after Mount Everest and K2).
India is the most vegetarian-friendly country in the world, with around 20-40% of the population choosing to be vegetarian.
Partner Institutions:
Guru Gobind Singh Indraprastha University
Indian Agricultural Research Institute
Indian Institute of Rice Research
Indian Institute of Technology Madras
Kalinga Institute of Industrial Technology
National Centre for Sustainable Coastal Management
National Rice Research Institute
Society for Conservation of Nature India
TERI School of Advanced Studies