Nepal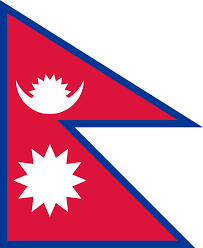 Nepal, officially the Federal Democratic Republic of Nepal, is a sovereign country in South Asia. It is mainly in the Himalayas, but also includes parts of the Indo-Gangetic Plain. It is landlocked, and borders Tibet in the north and India in the south, east and west, while Bangladesh is located only 27 km from its southeastern tip. Nepal has a diverse geography, including fertile plains, subalpine forested hills, and eight of the world's ten tallest mountains, including Mount Everest, the highest point on Earth. Kathmandu is the capital and the largest city.
The country is known to have the widest range of elevations in the world. 
The Kochi river is the highest and longest river in Nepal with 720 km/ 450 miles.
Nepal has over 6 000 rivers that are either fed by snow or rain and thus the country is also referred to the 'water towers' of South Asia.
Eight of the world's fourteen highest peaks above 8 000 m/ 26246 ft. are located in Nepal: Mount Everest, Kanchenjunga, Lhotse, Makalu, Cho Oyu, Dhaulagiri, Manaslu and Annapurna.

Partner Institutions:
Institute of Agriculture and Animal Science, Tribuhavan University