Sri Lanka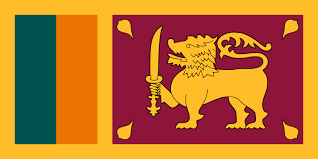 Sri Lanka, officially the Democratic Socialist Republic of Sri Lanka is an island country in South Asia, located in the Indian Ocean southwest of the Bay of Bengal and southeast of the Arabian Sea. Sri Lanka has been called "the pearl of the Indian ocean" because of its shape and location
The Democratic Socialist Republic of Sri Lanka is an island country in the Indian Ocean.
Well known as an important exporter of tea, Sri Lanka also produces coffee, gemstones, coconuts, rubber and cinnamon.
Sri Lanka has an ancient history dating back at least 125,000 years.
Sri Lanka's position on the Silk Road made the country of great strategic importance for thousands of years.Early monarchs were responsible for some amazing projects such as the "Fortress in the Sky" at Sigiriya, built between 477 and 495 AD. The fortress is surrounded by moats and ramparts and enclosed gardens, ponds, pavilions and palaces.
Partner Institutions:
International Union for Conservation of Nature
Marine Environment Protection Authority
South Asia Co-operative Environment Programme