Submitted on
Wednesday 31 August 2022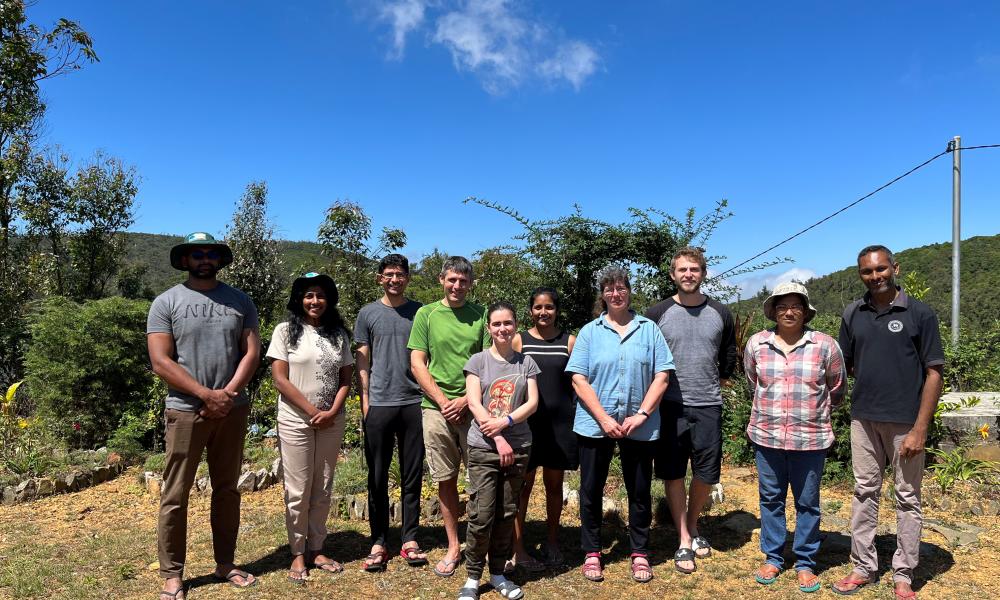 A team from the UK Centre for Ecology & Hydrology (UKCEH), Natural History Museum of London and Sri Lanka's University of Peradeniya was stationed in the mountains of central Sri Lanka during March and April to kick off the meteorological monitoring and ammonia enhancement experiment for the South Asian Nitrogen Hub (SANH).
Ammonia pollution is a growing issue across the world, especially in the rapidly developing parts of South Asia. Future projections reveal no respite from ammonia pollution for at least the next 3-5 decades with emissions and deposition predicted to increase drastically in hotspot regions. This is mainly because of its close association with food production. Since more than 60% of ammonia of anthropogenic origin comes from agriculture and fertilizer application and the rest from poultry and cattle farming, controlling ammonia emissions is proving to be a challenge in countries with rapidly growing populations such as India, Sri Lanka, Pakistan and Bangladesh. Moreover, long-range atmospheric transport is now threatening sensitive habitats in high-altitude regions. The first step towards putting the spotlight on ammonia pollution is by demonstrating the impacts on ecosystems such as dramatic changes in plant community composition, imbalance in soil chemistry and increased nitrogen losses from ecosystems in the form of gaseous emissions and leaching. SANH hopes to influence policy decisions by demonstrating the damaging impacts caused by excessive ammonia through field experiments. 
The team was based at the One Earth Centre for Climate Change Research and Adaptation run by Dilmah Conservation, a branch of Dilmah Tea. Dilmah Tea is one of the largest private companies in Sri Lanka and a major tea supplier across Asia, Australia and parts of Europe and Africa. Dilmah Conservation is actively involved in environmental research and outreach projects in Sri Lanka with utmost commitment to their work. Despite the current economic crises in the country, Dilmah has provided our team with unmatched logistical support. The team visited Dilmah headquarters in Colombo prior to starting their field campaign, where Dr. Ajinkya Deshpande (UKCEH Environmental Ecologist) presented a webinar organized by Dilmah conservation. The team also met the CEO of Dilmah Tea, Mr. Dilhan Fernando to discuss the significance of this work.   
Our study site in the sub-montane forests of central Sri Lanka provides a suitable representation of South Asian forest landscapes at risk from ammonia pollution. The site is located at 1600 m in the Rilagala Forest Reserve near Kandy and has been surrounded by tea plantations (Queensberry Estate) for almost two centuries. Inorganic fertilizers were applied to most of these plantations, until they were recently banned in the country. These secondary forests, hence, represent vulnerable forest landscapes across the South Asian region.  
These forests are home to a vast diversity of lichens, with many species endemic to Sri Lanka. Our team is accompanied by Dr. Gothamie Weerakoon, Senior Curator of Lichens at the Natural History of Museum of London. Gothamie discovered two new lichen species from Queensberry in 2014 and since then has been exploring these forests for more fascinating lichens. Lichens are potent bioindicators of nitrogen pollution, as some species flourish in high-nitrogen environments, while some experience complete decimation. In the mountainous regions of South Asia, lichens are an important forest product and a large number of communities are economically dependent on them. Considering their ecological and economic importance, the team is setting up an ammonia enhancement experiment to study the effects of ammonia pollution on lichen diversity and abundance. Gothamie, along with her local field assistants, surveyed every single tree in the 120 x 40 m study plot for lichens during the first five days of the campaign. We have installed time lapse cameras on some of the most sensitive lichens to visualize their response to ammonia enhancement over time. In addition to lichen monitoring, Netty van Dijk (UKCEH Ecologist) has set up vegetation quadrats to study the impacts on bryophytes, mosses and ground vegetation.  
| | |
| --- | --- |
| Completely instrumented met tower | The ammonia enhancement system |
Replicating real-world atmospheric ammonia pollution in a controlled manner under field conditions is a challenging task as the processes of chemical transport and deposition are driven by meteorological conditions. The UKCEH team has set up an ammonia enhancement system that is completely controlled by wind conditions. The system releases ammonia gas only under specified wind conditions and fumigates downwind areas of the plot where the lichen and vegetation quadrats have been set up. Concentration of ammonia in the air is closely monitored using a Picarro CRDS ammonia analyser.
For ammonia monitoring on a longer time-scale, ALPHA samplers (https://www.ceh.ac.uk/services/air-samplers) are installed across the study plot. Eight months prior to the Sri Lankan campaign, this team, led by Dr. Matthew Jones, had installed a similar system in a Birch plantation in Glencorse near the UKCEH Edinburgh site. This gave us the chance to optimize the system prior to its installation in Sri Lanka. Using data from these two experiments, the team is currently developing a multi-layer model to estimate dry deposition of ammonia gas on surfaces across the forest canopy. These two systems are the world's first met-controlled ammonia enhancement systems in plantation and natural forests, respectively. The Sri Lankan experiment became fully operational on March 23rd, 2022. 
In South Asian countries, a large gap in meteorological data availability exists currently. One of our prime objectives of this campaign was to install an extensively instrumented meteorological observation tower with monitoring equipment across different levels of the canopy. These include temperature-humidity sensors, multi-parameter weather stations, rain gauges, cup anemometers, 3D sonic anemometers, solar radiation/PAR sensors, leaf wetness sensors and multi-parameter soil reflectometers. The observation tower controls the ammonia enhancement system and it will provide detailed climatic data, previously absent from this region. The data stream is relayed back to UKCEH Edinburgh and the controls can be modified remotely. UKCEH instrumentation technician, Dr. Neil Mullinger led the equipment design and installation, while Duncan Harvey has been managing site logistics and infrastructure.
| | |
| --- | --- |
| preparing ammonia 'ALPHA' samplers | installing a multi-parameter weather station on the tower |
The team includes two PhD students, Galina Toteva from UKCEH and University of Edinburgh and Buddhika Weerakoon from the University of Peradeniya, Sri Lanka. Galina has been studying soil N2O emissions as a result of ammonia enhancement in Glencorse and has collected soil samples from the forest and tea plantations in Sri Lanka, which she will be using in a laboratory incubation experiment. Buddhika is currently being trained to maintain the tower equipment and the enhancement system and he will be working on his PhD project with Gothamie and Prof. S.P. Nissanka (University of Peradeniya) to study the impacts on lichens. As a part of SANH, UKCEH is building capacity in Sri Lanka by training local scientists and providing them with equipment to collect important environmental data that will help in developing the South Asian model for controlling nitrogen pollution as a template for the world. This experiment will also provide insights on resilience thresholds to nitrogen pollution of this landscape that can be extended across South Asia. 
-by Ajinkya Deshpande and Neil Mullinger