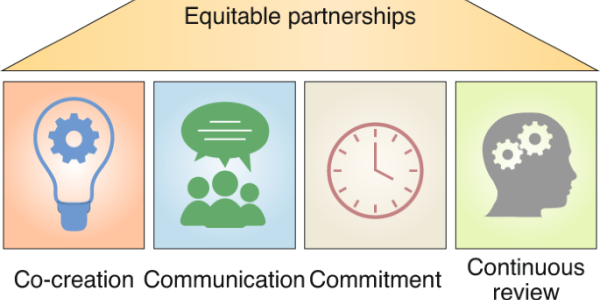 What are equitable partnerships?  
In recent years, there has been an increase in international partnerships between researchers from different countries. In order for this research to be impactful, and to effectively address global challenges, it is important that these partnerships are equitable. Whilst there is no agreed universal definition for equitable partnerships, equitable partnerships are frequently defined as:
"Partnerships in which there is mutual participation, mutual trust and respect, mutual benefit and the equal value placed on each partners contribution at all stages of the research process".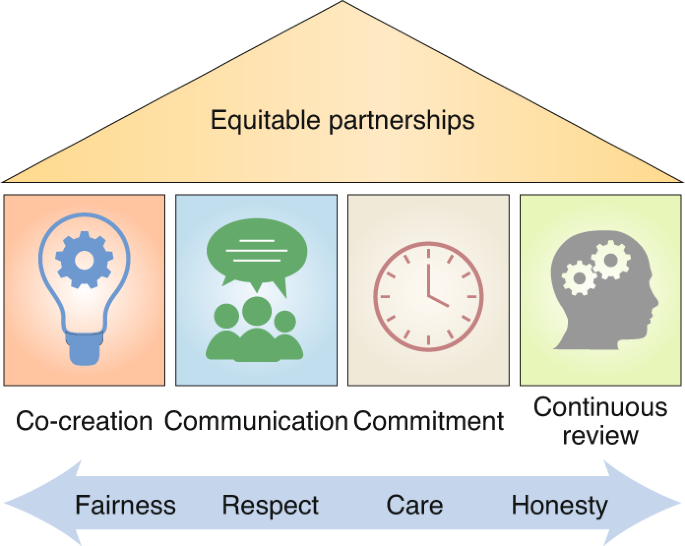 Equitable Partnerships focuses on:
Acknowledging the principles of equality, mutuality, reciprocity, and respect. This incorporates recognising and ensuring a mutual understanding of differences between the partners and how these differences can influence the partnership. This includes differences based on cultural and contextual backgrounds, including varying capacities, priorities, timeframes, organisational incentive structures and other practices.
Transparency and accountability are important aspects of building interpersonal relationships that are based on mutual trust. 
Future Plans: 
Create an open survey for all partners (including students, technical staff and early career researchers) as an anonymous web form regarding equitable partnerships. The survey will include questions on how they currently feel about partnerships in the project as well as ask for feedback on ways we could improve and suggestions they have on how we can increase equity in the Hub and provide more opportunities.    
The survey results could be used to create an equitable partnership strategy document which would be written afterwards and then reviewed by the ethics committee. All SANH members would be open to contribute and review the document and it would then be shared with all members.
The UK Collaborative on Development Research (UKCDR) is a group of government departments and research funders working in international development. They have a significant number of resources, which exist on equitable partnerships.
You can visit this site for guidance and resources on Equitable Partnerships: https://www.ukcdr.org.uk/what-we-do/our-work/equitable-partnerships/
https://www.ukcdr.org.uk/guidance/equitable-partnerships-hub/